Ubisoft recently teamed up with Poki to bring their first Ubisoft Nano game called Rabbids Wild Race to the web. The game will be freely accessible to millions of web users around the world during its soft launch on November 12, 2020. Let us tell you more about it now!
Rabbids Wild Race on Poki
Rabbids Wild Race continues with the tradition of uniting multiple players in one gameplay. However, there's a twist. Instead of limiting the player count to 4, kids of all ages (including the grown up kids, wink wink) will be able to play on Poki with up to 31 other players. 32 naughty Rabbids on one screen is a lot to take in and makes this game release extra special.
The game starts with all players, real people scattered all around the world,
competing to get ahead and collect coins and stars which are exchangeable for special items like your Rabbid's special armor, or wacky outfits.
After entering your name and customizing your naughty Rabbid, you'll jump to the starting block. Touch the screen (on PC : mouse left-click or spacebar) to activate your Rabbid's Jetpack. Release to fall. Use your jetpack to avoid obstacles, collect coins, stars and items. The player who survives the longest wins. Since there are so many Rabbids on the screen, especially at the beginning, losing track of your Rabbid is a recipe for disaster, so the game will certainly let you show off your reflexes and focus.
There's also a more direct competitive aspect to the game. You can bounce on other players to prevent them from winning. That's your chance to throw your opponents into obstacles to end their runs. Rabbids seem cute but they can turn mischievous if left unchecked.
"We're thrilled to welcome Rabbids Wild Race to our ultimate online playground. It's great to see a famous game publisher like Ubisoft also recognizes the potential of the web. Our global cross-device reach previously attracted the studios behind mobile app store hits like Crossy Road, Subway Surfers and Stickman Hook to our platform for play. Now Ubisoft joins the club with Rabbids Wild Race," says Head of Developer
Relations at Poki Joep van Duinen.
Rabbids Wild Race is Ubisoft's first Ubisoft Nano production ever built and is being launched exclusively on Poki .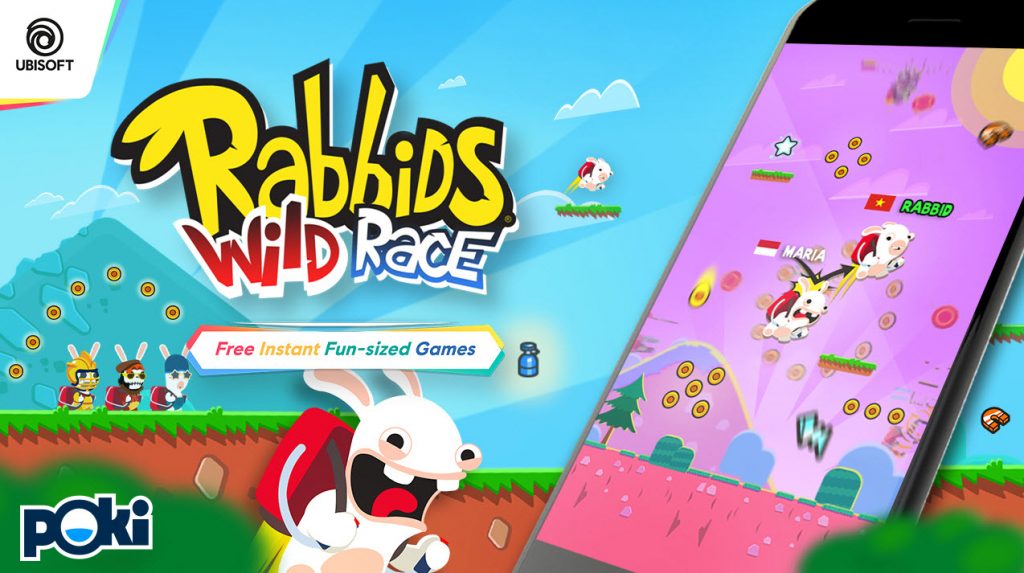 About Rabbids
The Rabbids are small, playful and unpredictable creatures invented by Ubisoft in 2006. They can be recognized by their blue eyes, a large mouth revealing two short incisors and their characteristic scream of BWAAAH! These clueless, totally out of control creatures with short attention spans have won the hearts of millions of users all over the world, even going on to have their own comic and television series.
The first game in the Rabbids series was Rayman Raving Rabbids followed by Rayman Raving Rabbids 2 and Raving Rabbids: Travel in Time as well as spin-offs such as Rabbids Invasion and Rabbids Heroes. The majority of the Rabbids video games consist of party games that contain different mini-games with up to 4 players per game.
In 2017, Nintendo and Ubisoft joined forces to treat their fans with a new video game titled Mario + Rabbids Kingdom Battle featuring both characters from the Mario and Rabbids franchise. The epic personalities of Mario, Luigi, Princess Peach and Yoshi came together with four playful and unpredictable Rabbids heroes providing a fresh gameplay experience filled with opponents, puzzles and plenty of humor and fun. In the following year, an expansion known as Donkey Kong Adventure was released where Rabbid Peach and Beep-0 played the main role trying to defeat Rabbid kong,
the biggest boss of the main plot of the game.
About Ubisoft Nano
Ubisoft Nano is a new and growing collection of multiplayer Free Fun-sized Instant Games based on Ubisoft beloved worlds. Accessible and enjoyable to everyone, Ubisoft Nano games are lively and easy to pick up, and designed to bring instant bursts of arcade fun to fans of Ubisoft characters, hypercasual gamers and live-multiplayer aficionados, on mobile and desktop. Play, share & party live with millions of players from the four corners of the world with Ubisoft Nano!
Ubisoft is proud to announce Rabbids Wild Race will be featured on the leading global web platform: Poki.
About Poki
Poki is an Amsterdam based company working with a team of 30 on a mission to create the ultimate online playground: a platform for play where kids of all ages and game developers come together to play and create. They help a growing community of over 200 game developers achieve success on the web by offering their games to a wide audience and helping them monetize via premium advertisements. On their web platform Poki features hit titles like Subway Surfers (by Kiloo), Crossy Road (Hipster Whale) and Stickman Hook (Madbox), alongside true web originals like Raft Wars (Martijn Kunst), Duck Life (Wix Games) and Dunkers (Colin Lane). Poki reaches over 30 million users and is localized in 28 languages. For more information visit Poki for Developers page.
Credit: Source link